flyinglifehome
Door Mirror 50 x 14in
Product Description

FLYING as a well-known mirror manufacturer has professional Research and Development Department. Ordinary mirrors by exquisite workmanship achieve excellent quality, and we provide 7x24h service. Our mission is to make a beautiful and practical mirror for consumers.
Smooth Edges, Sculptured Pattern
The border frame can protect the mirror effectively sculptured pattern is ornamental
Classic Proportion
Proper ratio, golden section size suitable for most families of different heights
HD Imaging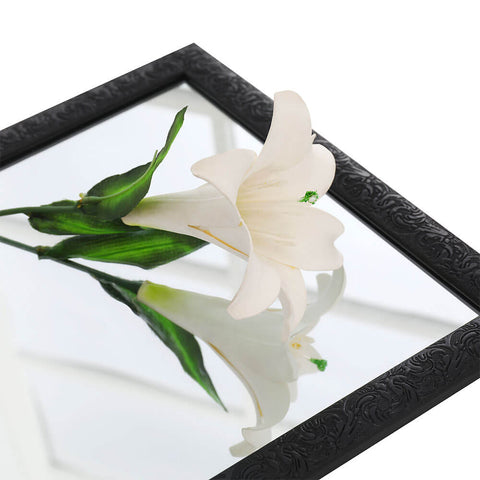 FLYING mirror was made of high-quality float glass which can provide super HD imaging, beautiful, natural, and no distortion.
Double pendant
The pendant in the back is convenient to install. Providing you a safe installation experience
Exquisite Workmanship
Float glass through polishing, precision coating, and double-layer back paint, exquisite workmanship creates high-quality products, just like our brand: FLYING.
| | |
| --- | --- |
| Size | 50 x 14in |
| Thickness | 3mm |
| Color | White/Brown/Gold |
| Frame Material | PS |
| Installation Method | Hangable |
| shatterproof | ✓ |
👍👍👍
Great mirror! Easy to install. Looks great. Nice quality for the price and most importantly real mirror so reflection is exactly as you are, not distorted.
Cute, perfect size, Great detail along the border
Great mirror. Served the purpose as intended. Needed a small mirror to decorate the foyer into my apartment. This mirror is perfect for my decor and sits in the perfect position for me to do a final check before leaving each day. The mirror is a great value for price and made with the right touch of detail. Beautiful and can be place on the floor or at the right height on a wall. Would definitely purchase again if needed.
Love it
Worth purchase!
Would highly recommend it! They look great! I absolutely love these mirrors. This mirror perfectly matched my expectations. It's very nice looking and gives a clear image. The mirror arrived undamaged, packaged very neatly & protected. I also really appreciated that the instructions are very easy to understand, whether you want to hook the mirror to your door or screw it into your wall. The brackets are strong enough to hold the mirror tightly. When I open and close the door where the mirror is hung, it does not feel loose or flimsy. Very
Perfect
Just a perfect mirror !!!